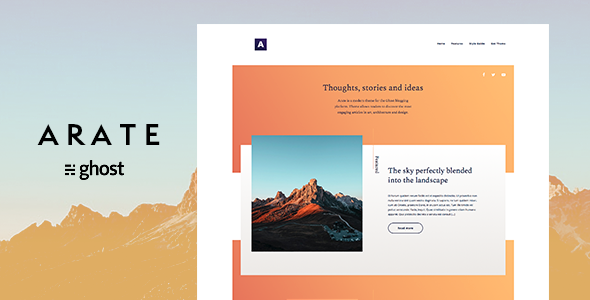 This is not a WordPress theme. Please note that we do not provide refunds for mistaken purchases.

Introduction

Arate is Ghost theme with a sleek and modern design for a personal fashion or lifestyle blog, an online journal or a magazine.
At fueko you can find the best premium Ghost themes that are easy-to-use, without compromising the design and code quality.
General features

Ready for Ghost 4.0
Compatible with Ghost 3.0.0 or later
Clean design
Lightweight and minimal
Super fast
Fully responsive
Responsive video
Compatible with modern browsers
Updated regularly
Fast support
Supports inbuilt Ghost features

Translation ready English, Polish, French, Russian, Chinese and Japanese included
Accent color
Koenig editor
Bookmark card
Gallery card
Multiple authors
Custom post excerpt
Featured Post and Page
Post, Page, Tag and Author page
Logo support
Blog cover image, title and description
Author cover image, avatar, bio, website and social links
Tag cover image and description
Facebook and Twitter social links
Next and Previous post navigation in post view
Subscription form
Additional theme features

Custom tags page
Additional second blog description
Image zoom in post and page view
Comments with Disqus
Share post on Facebook and Twitter
"Copy link" function for share section in post view
Additional social links
Theme tested on without Members feature – Ghost adds scripts that affect the result

Credits

All photos used in the theme demo are from Unsplash
Compatible with Ghost All features available for the latest Ghost version (see changelog)


4.8.x, 4.7.0, 4.6.x, 4.5.0, 4.4.0, 4.3.x, 4.2.x, 4.1.x, 4.0.x, 3.42.x, 3.41.x, 3.40.x, 3.39.x, 3.38.x, 3.37.x, 3.36.0, 3.35.x, 3.34.x, 3.33.0, 3.32.x, 3.31.x, 3.30.x, 3.29.x, 3.28.0, 3.27.0, 3.26.x, 3.25.0, 3.24.0, 3.23.x, 3.22.x, 3.21.x, 3.20.x, 3.19.x, 3.18.x, 3.17.x, 3.16.x, 3.15.x, 3.14.0, 3.13.x, 3.12.x, 3.11.0, 3.10.0, 3.9.0, 3.8.0, 3.7.0, 3.6.0, 3.5.x, 3.4.0, 3.3.0, 3.2.0, 3.1.x, 3.0.x

Changelog Compatible with Ghost 4.0.0 or later


--------------------------------
  Version 1.10.0  Apr 1st 2021
--------------------------------
∙ Added: Support for Ghost 4.0
∙ Added: Support for 'Accent color'
∙ Added: Support for 'preconnect' attribute for Google Fonts
∙ Added: YouTube Music, Google Play and BandCamp icons
∙ Updated: {{@site.locale}} helper replaces deprecated {{@site.lang}} helper
∙ Updated: clipboard.js to v2.0.8
∙ Removed: Deprecated {{@labs.members}} helper and visibility="all" parameter
∙ Small bug fixes and performance improvements

Changelog Compatible with Ghost 3.37.0-3.42.x


--------------------------------
  Version 1.9.0  Nov 6th 2020
--------------------------------
∙ Updated: home.js file renamed to index.js
∙ Updated: newsletter.hbs file renamed to subscribe_form.hbs
∙ Updated: subscribe_form.hbs moved to members folder
∙ Updated: English, Chinese, French, Japanese, Polish and Russian translations
∙ Removed: Custom notifications
∙ Removed: post_share.hbs, members_notification.hbs and members_subscribe_alerts.hbs file
∙ Small bug fixes and performance improvements

Changelog Compatible with Ghost 3.0.0-3.36.0


--------------------------------
  Version 1.8.2  Jul 16th 2020
--------------------------------
∙ Added: Notification if the magic link has expired

--------------------------------
  Version 1.8.1  Jun 22th 2020
--------------------------------
∙ Fixed: The height of the images in the post content

--------------------------------
  Version 1.8.0  Jun 7th 2020
--------------------------------
∙ Added: Over 190 new social icons
∙ Updated: Google fonts to API v2
∙ Removed: Outdated prefixes from screen.css
∙ Small bug fixes and performance improvements

--------------------------------
  Version 1.7.2  Mar 5th 2020
--------------------------------
∙ Updated: reframe.js to v2.2.6
∙ Updated: clipboard.js to v2.0.6
∙ Updated: English, Polish, French, Japanese, Russian and Chinese translations
∙ Removed: 'Invalid' status from subscribe forms

--------------------------------
  Version 1.7.1  Nov 1st 2019
--------------------------------
∙ Updated: French, Japanese, Russian and Chinese translations

--------------------------------
  Version 1.7.0  Oct 31st 2019
--------------------------------
∙ New: Compatibility with Ghost 3.0
∙ Updated: Replaced labs/subscriptions with members/subscription feature
∙ Updated: English and Polish translations
∙ Small bug fixes and performance improvements

Changelog Archival


--------------------------------
  Version 1.6.3  Oct 19th 2019
--------------------------------
∙ Added: Services folder in partials folder
∙ Added: google_fonts.hbs partial template in services folder
∙ Added: {{>google_fonts}} partial reference in default.hbs
∙ Added: Support for "display=swap" parameter for Google fonts
∙ Added: Support for responsive tables
∙ Improved: disqus.hbs moved to services folder
∙ Renamed: socialicons.hbs to social_icons.hbs
∙ Small bug fixes and performance improvements

--------------------------------
  Version 1.6.2  Aug 29th 2019
--------------------------------
∙ Added: Support for bookmark card
∙ Added: Image zoom in post and page view
∙ Improved: Changing the default number of posts in home view from 4 to 8
∙ Small bug fixes and performance improvements

--------------------------------
  Version 1.6.1  May 7th 2019
--------------------------------
∙ New: "Copy link" function replaces "G+" icon in share post section
∙ Added: Support for code cards with captions
∙ Fixed: Issue with nested {{get}} helper in featured.hbs
∙ Updated: English, French, Japanese, Polish, Russian and Chinese translations

--------------------------------
  Version 1.6.0  Apr 2nd 2019
--------------------------------
∙ Updated: {{@site}} helper replaces deprecated {{@blog}} helper
∙ Updated: {{@site.lang}} helper replaces deprecated {{lang}} helper

--------------------------------
  Version 1.5.0  Feb 27th 2019
--------------------------------
∙ Improved: Script ScrollReveal merges with post.js
∙ Small bug fixes and performance improvements

--------------------------------
  Version 1.4.1  Jan 23rd 2019
--------------------------------
∙ Fixed: Issue with displaying pages marked as featured in the slider

--------------------------------
  Version 1.4.0  Jan 18th 2019
--------------------------------
∙ Updated: Content API v2 replaces Public API v0.1

--------------------------------
  Version 1.3.3  Jan 18th 2019
--------------------------------
∙ Improved: icons.css merges with screen.css
∙ Improved: normalize.css merges with screen.css
∙ Improved: global.js merges with default.hbs
∙ Small bug fixes and performance improvements

--------------------------------
  Version 1.3.2  Sep 2nd 2018
--------------------------------
∙ New: Custom tags page

--------------------------------
  Version 1.3.1  Sep 1st 2018
--------------------------------
∙ Added: Support for gallery card in Koenig editor
∙ Small bug fixes and performance improvements

--------------------------------
  Version 1.3.0  Aug 20th 2018
--------------------------------
∙ Added: Support for Ghost 2.0.0

--------------------------------
  Version 1.2.0  Jul 29th 2018
--------------------------------
∙ Added: Support for Koenig editor
∙ Added: Translation into Chinese
∙ Small bug fixes and performance improvements

--------------------------------
  Version 1.1.3  May 18th 2018
--------------------------------
∙ Added: Translation into Russian

--------------------------------
  Version 1.1.2  May 14th 2018
--------------------------------
∙ Added: Translation into French

--------------------------------
  Version 1.1.1  May 7th 2018
--------------------------------
∙ Added: Translations into Polish and Japanese

--------------------------------
  Version 1.1.0  Apr 14th 2018
--------------------------------
∙ Added: Support for Ghost translation
∙ Added: Support for multiple authors

--------------------------------
  Version 1.0.2  May 14th 2018
--------------------------------
∙ Fixed: Issue with wrapping long words

--------------------------------
  Version 1.0.1  May 7th 2018
--------------------------------
∙ Improved: Better font rendering in macOS

--------------------------------
  Version 1.0.0  Apr 6th 2018
--------------------------------
∙ Released