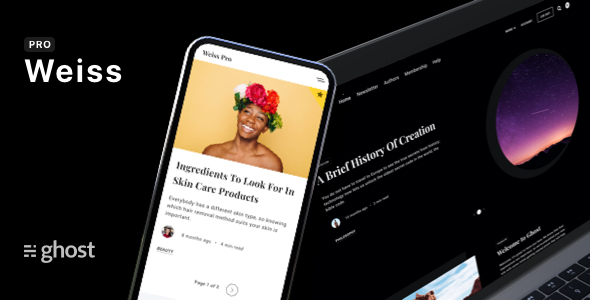 Theme description
Weiss Pro is a modern and beautiful Ghost theme ready to make your content shine. It comes with a lot of features including members support, dark mode, search and much more.
Preview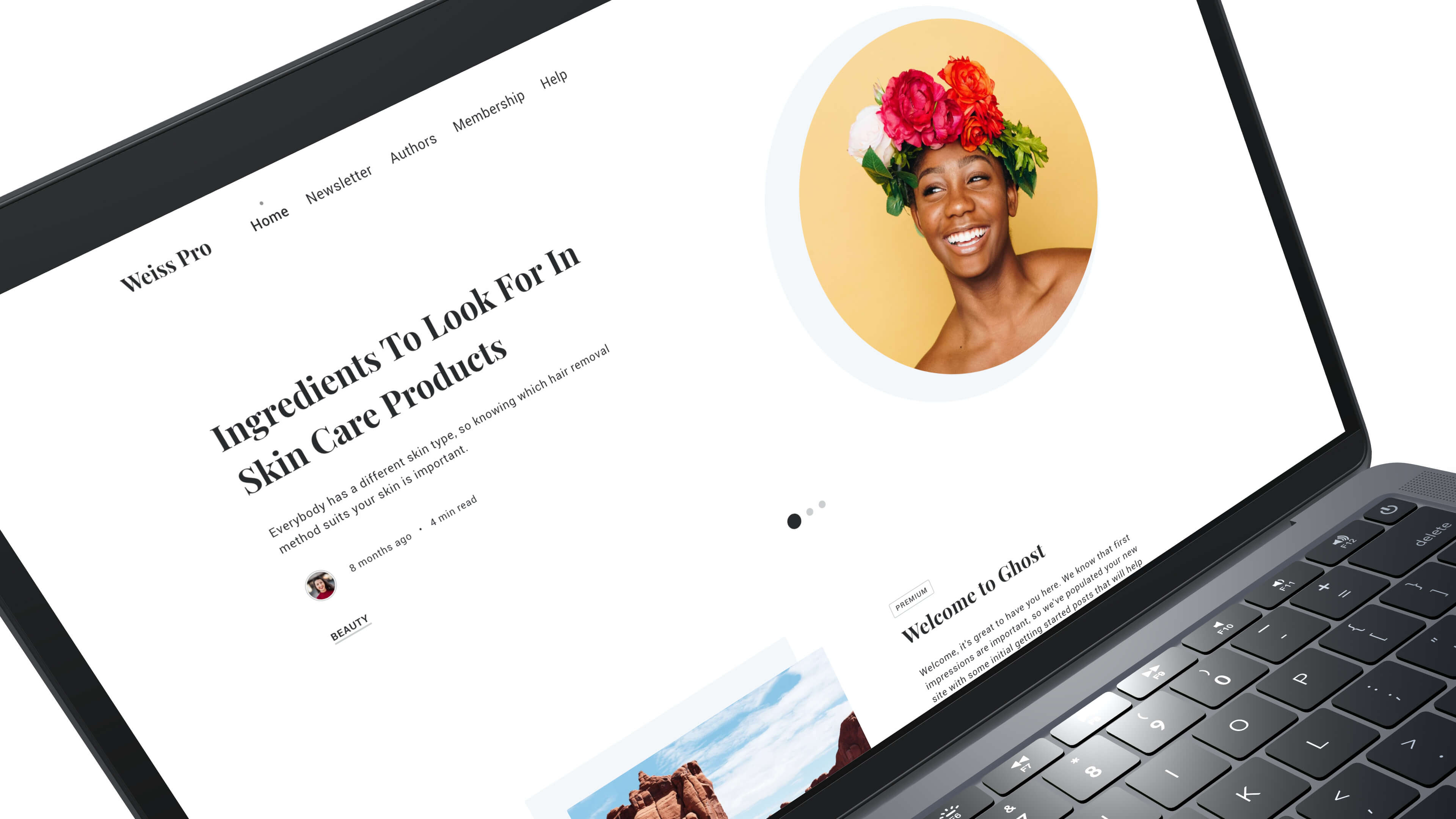 General features
Modern and beautiful design
Lightning fast
Fully responsive, looks great on any device
Compatible with modern browsers
User friendly
Fast support
Ghost features
Ghost 4 support
Full Members support (yes, with this theme you can turn your audience into a business)
Public Previews support
Secondary navigation support
Newsletter support
Support for Post, Page, Tag, Authors, Newsletter, Signup, Signin, Membership and Account pages
Multiple authors support
Logo support
Featured posts and pages
Koenig editor
Bookmark card
Gallery card
Blog title and description
Cover image for posts
Author avatar, bio, location, website and social links
Facebook and Twitter social links
Reading time
Next and Previous post navigation
Tags in posts
Weiss Pro unique features
Dark mode
Search
RTL language support
Fully Translatable
Custom authors page
Custom taglist page
Custom error page
Medium style image zoom
Comments with Disqus (or any other platform)
Share posts on Facebook and Twitter
Carousel of featured posts
Support for normal, wide and full images in posts
Lazy load for images
Source code included so you can modify the theme as you want or build a new theme on top of it
Members and subscriptions
Posts access: public, members only, paid-members only
Custom sign in page
Custom sign up page
Custom membership page
Custom account page
Custom newsletter page
Subscription plans: monthly and yearly
Cancel or continue subscriptions
Localization
Weiss Pro is fully translatable and comes with the following translations ready to use:
Tests performed
Help and support
The documentation describes in detail the steps to follow to get the most out of this theme, if for any reason you don't find an answer to any question, don't hesitate to contact me via email, I try to respond as soon as possible, no longer than one business day later. You can also create an issue in the issues tracker.
Of course you can get support in the comments area of this item as well. I'll be happy to help you
Credits
Infinite thanks to Katerina Limpitsouni for her amazing illustrations.
All the photos I used in this theme were taken from Unsplash.
Changelog

************************************
Version 2.0.1 May 1th 2021
************************************

* Public Previews support https://ghost.org/help/public-previews/
* Update Ghost image (only for development)

Modified files:

custom-page-no-metas-and-share.hbs
custom-page-no-newsletter.hbs
custom-page-only-content.hbs
custom-post-no-author-section.hbs
custom-post-no-newsletter.hbs
package.json
page.hbs
post.hbs
src/docker-compose.yml

************************************
Version 2.0.0 Mar 25th 2021
************************************

* Ghost 4 support
* Update dependencies
* Replace legacy code
* Bugfixes and improvements

Modified files:

README.md
author.hbs 
custom-page-no-metas-and-share.hbs 
custom-post-no-author-section.hbs 
custom-post-no-newsletter.hbs 
default.hbs 
index.hbs 
locales/en.json 
locales/es.json 
members/account.hbs
package.json
page.hbs 
partials/featured-slide.hbs
partials/header.hbs 
partials/membership.hbs 
partials/notifications.hbs 
partials/post-card.hbs 
partials/recent-post.hbs
partials/related-post.hbs 
partials/search.hbs 
post.hbs 
src/docker-compose.yml 
src/js/account.js 
src/js/app.js
src/js/home.js
src/js/post.js
src/js/vendor/content-api.min.js
src/package-lock.json
src/package.json 
src/webpack.mix.js
tag.hbs

Removed files:

partials/notifications.hbs

************************************
Version 1.8.0 Mar 15th 2021
************************************

* Add more templates for posts and pages: weiss-pro-docs.eduardogomez.io/additional-notes/post-templates.html
* Remove documentation files from the theme folder
* Ignore submit event in search form
* Fix the position of the icon in the secondary menu button
* Improve and simplify development process
* Update README and LICENSE files

************************************
Version 1.7.4 Jan 16th 2021
************************************

* Display related articles only if post has tags
* Improve some hover styles in post content
* Update documentation
* Improve debug logs for theme development
* Update Ghost image version for theme development

************************************
Version 1.7.3 Dec 14th 2020
************************************

* Make images zoomable in articles when they are added as raw html
* Improve styling for code blocks
* Fix some typos

************************************
Version 1.7.2 Nov 9th 2020
************************************

* Displays feature image in tag pages when available
* Displays subscription message in pages when users don't have access to the content
* Displays blog description only if available
* Improvements and bugfixes

************************************
Version 1.7.1 Oct 24th 2020
************************************

* Speeds up the loading of images in the search by loading a smaller version of each image when possible
* Fixes a bug that didn't allow to see the "More" menu in Safari for iOS

************************************
Version 1.7.0 Oct 12th 2020
************************************

* Improves speed by reducing the font files size. Now the theme only loads the latin charset instead of loading all the supported charsets. More info about this here: https://github.com/eddiesigner/weiss-pro/wiki/How-to-use-a-different-character-encoding
* Updates Ghost version
* Adds the preload block to the default template
* Supports Complimentary plans
* Fixes translations issues, especially in the account page
* Fixes an issue related to the Medium-zoom library
* Loads the notifications template only if the Members feature is enabled
* Updates documentation

************************************
Version 1.6.0  Aug 3th 2020
************************************

* Improve focus style of icon buttons
* Add documentation on how to update the theme
* Fix membership page after signup through the free tier
* Gives support to other charsets like cyrillic, greek and vietnamese

************************************
Version 1.5.0  Jul 27th 2020
************************************

* Speed and performance is drastically improved
* Taglist page added
* Custom template for posts without author section
* Free tier available in membership page
‍* Better accessibility
* Search improved
* Documentation updated
* Bugfixes and improvements

************************************
Version 1.1.3  Jun 1th 2020
************************************

* Documentation was improved
* Fix a small issue with the style of the auth forms

************************************
Version 1.1.2  May 22th 2020
************************************

* Display the correct CTAs in the post pages based on member status when the users don't have access.

************************************
Version 1.1.1  Apr 26th 2020
************************************

* More social icons included (Behance, Snapchat, Discord, Deviantart, Wechat, Tumblr, Tiktok, SoundCloud, Telegram, Spotify, RSS, Vimeo, Steam, VK, IMDB)
* An empty status message is displayed correctly when the author of an article has no more articles published.
* Fix blurry images after zoom in on mobile devices
* Internal improvements